[HTML5] Hungry Rex – GGJ 2014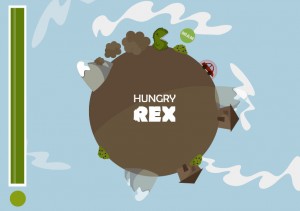 Now Available On Playstore ! I took part in the Global Game Jam 2014 as a LadybugRider member. The goal is quite simple : you have to develop a game in 48 hours.
This year's theme : « We don't see things as they are, we see them as we are ». After a good brainstorming, Hungry Rex was born.
The player controls a dinosaur whose goal is to eat every resource on the planet. You role is to make him jump over the obstacles.
However you have to be cautious : Rex grows up as he consumes every objects having the same volume. Some items that were harmless until then will become a threat to him
Click HERE to play to Hungry Rex!!